ASS Melbourne Monthly Shakuhachi Workshops
with Lindsay Dugan
The Australian Shakuhachi Society invites you to monthly workshops to experience the art and sound of the Shakuhachi - the Japanese bamboo flute.

Each month we will focus on one of several genres, including Yokoyama style honkyoku and Kinkoryu honkyoku and gaikyoku, along with relevant technical aspects such as meri technique, ornamentation, and tone.
The next workshop will be held on July 8th, 2017, 15:00-17:30,
at 210 Berkeley St, Parkville.

Please see News and Events for more information, or register below.
About Lindsay Dugan
Lindsay lived for ten years in Japan, studying classical honkyoku with Katsuya Yokoyama and Kaoru Kakizakai. He holds Masters degrees in shakuhachi performance from Sydney Conservatorium of Music and Tokyo Geidai (Tokyo University of the Arts), and is a shihan (licensed instructor) of the Chikushinkai.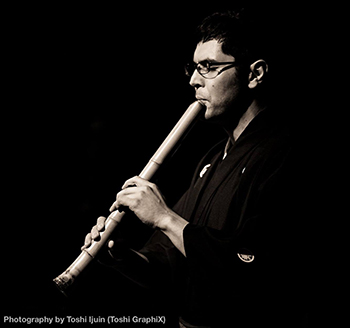 To complete payment and registration, please select an option. After submitting your PayPal payment, you will be re-directed to a page where you can download a PDF form and complete your registration.