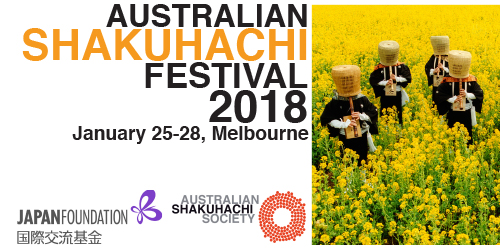 The Australian Shakuhachi Society is pleased to announce Australian Shakuhachi Festival 2018 (ASF18).

ASF18 is a multi-day intensive for shakuhachi players of any skill level. Held over four days, the Festival includes concerts, group workshops, and individual tuition.

The Festival will be held at University College, Parkville, Melbourne, close to the airport and Melbourne CBD, with accommodation and catering options at the venue. (Google Maps link)

Invited performers include Teruo Furuya, Kaoru Kakizakai, Kazushi Matama, Riley Lee, Carl Rathus, Bronwyn Kirkpatrick, and Lindsay Dugan. Joining us on koto will be Satsuki Odamura (Sydney and Blue Mountains concerts) and Brandon Lee (Festival and Melbourne concert).

ASF18 is the perfect introduction for absolute beginners, who can receive special, individualised tuition for a substantially discounted registration fee.

Shakuhachi instruments will be available for hire or purchase.

Haven't picked up your shakuhachi for a while? ASF18 is perfect for you too, whether you want to revitalise your relationship with the instrument, start totally afresh, or just enjoy dabbling in the music again as a one-off treat, surrounded by like-minded people.

Festival registration includes entry to the ASF18 Shakuhachi Festival Concert Melbourne, a rare opportunity in Australia to hear many master shakuhachi players performing in one concert.

COST: Full registration (25-28 Jan) is $480. Absolute beginners (you must meet certain criteria to qualify) is $320. Single day registration is $170. Registrations will be open mid-November.

Registration includes entry to ASF18 Shakuhachi Festival Concert Melbourne.

Other public concerts associated with ASF18 will be held in Sydney (Jan 31) and the Blue Mountains (Feb 1).

Scores and audio recordings of pieces to be taught at ASF18 will be provided in advance to registrants, along with a festival schedule.

Accommodation options include onsite standard and ensuite rooms at University College.

ASF18 PDF flyers here:


Festival Registration
Once registrations open in mid-November, there will be three main package options:

1) Full package: ASF18 registration, three nights accommodation (choice of either Standard or Ensuite Rooms, includes free breakfast), and full catering (lunch, dinner, and Friday banquet)

2) Accommodation only package: ASF18 registration plus three nights accommodation (choice of either Standard or Ensuite Rooms, includes free breakfast)

3) Basic package: ASF18 registration, plus options for either full catering (lunch, dinner and Friday banquet), or Friday banquet only

Please see Accommodation and Catering for an explanation of those options.

If you are not an ASS member, you can sign up here to become a member and be eligible for the member's registration for ASF18, and other ASS related activities.
Accommodation
Accommodation options at University College for use by ASF18 participants are:

Standard Student Room (shared bathroom facilities): $220 per person for three nights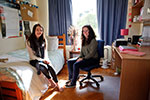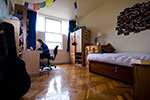 Graduate Room (private ensuite): $280 per person for three nights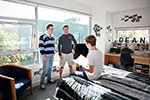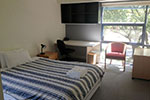 Check in time is 14:00 on the 25th, and check out time is 12:00 on the 28th. Belongings can be stored at the venue while the festival continues after check out on the 28th. Linen is provided.

Accommodation can only be booked for a three-night block. You will able to choose your desired accommodation option when registering.
Catering
Catering will be available as an option, provided by University College.

For those who choose to use venue accommodation, breakfast is included free.

There will be two other catering options: full catering (lunch, dinner, and Friday banquet), or Friday banquet only.

Vegetarian options will be available.
Group Workshops
As usual, there will be workshops teaching different pieces and styles throughout each day of the festival. All levels are provided for, from Absolute Beginner to advanced.
Individual lessons
Each participant will have a free individual lesson with a teacher. Getting in early with registration will mean that you have a greater chance of getting a lesson with the teacher you want, at a time that you like. Watch this space.
Concerts
Three public concerts will be held in association with the festival.

The ASF18 Melbourne Shakuhachi Concert will take place at the Church of All Nations, Carlton, on Saturday January 27. Entry is included with the festival package for participants.

Concerts will also be held in Sydney at The New Church, Roseville on January 31st, and in the Blue Mountains at Kindlehill Performance Space, Wentworth Falls on February 1st.

Last, but most certainly not least, no ASF would really be an ASF without the highly anticipated, world renowned, critically acclaimed Student Concert. All participants will get to show off their new and improved chops.
ASF18 T shirts
ASF18 t-shirts will be available as a separate option at the time of registration, featuring the new ASS logo!


Contact and questions:

lindsay@lindsaydugan.com
0415 305 777